Just the Facts
Since 1983, PMCS has been providing affordable, expert outside IT Services to businesses of all sizes in Los Angeles County. Located in Montrose, fifteen minutes north of Downtown Los Angeles, PMCS is conveniently located to serve customers from all surrounding cities.
Our team of expert technicians are proficient at solving problems remotely, onsite, or in-house, and can help with everything from desktop updates to server building and deployment. We are here for you from top to bottom and side-to-side, offering a comprehensive collection of IT services that will ensure that you always know who to call when something goes wrong.
Early Adopters
PMCS was founded in 1983 by a college student who knew how to repair electronics and thought there might be something to the burgeoning field of desktop computing - after all the IBM PC had been released a little over a year prior. From that young man who liked computers and found one company who needed help, PMCS has spent the last 40 years growing into a mature, experienced MSP still owned and operated by its founder, Gary Emirkhanian.
Gary has worked in the Managed Services field longer than the field has had its name, improving and expanding PMCS one client at a time until he was one of the earliest outside IT Services providers operating in Los Angeles.
Gary takes a great deal of pride in his work and the relationships that he has built with his customers – some of whom have been working with us nearly since our doors opened. Learn more about what kind of businesses PMCS has supported over the years and find out what we can do for you. Learn more.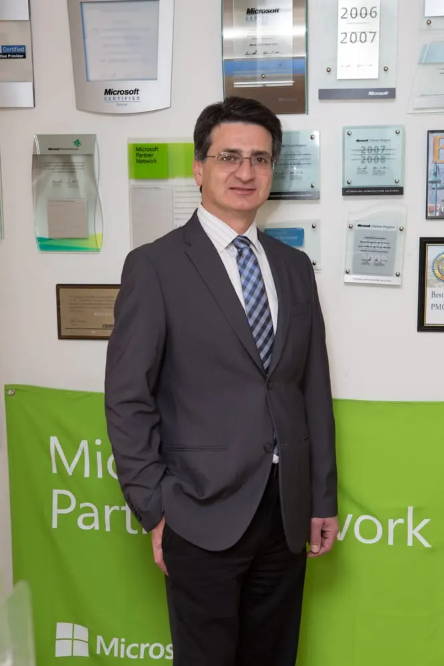 What to Expect from PMCS
We are your one-stop technology shop. We go above and beyond in helping you with Cloud solutions, Microsoft Office 365, cybersecurity, hardware or software, phone or computers, desktop support or server implementation. We do it all, and we do it well.
Cloud solutions, including hosted servers, workstations and backups.
Security services starting from the internet firewall to your desktop, and including antivirus, email and DNS filtering, and security training.
Computer maintenance, from server patches to desktop updates and lifecycle replacement schedules, PMCS can help you to stay on top of maintenance, keeping your environment lean, efficient, and fast.
Technical support. Don't spend hours on the phone with every software provider, call PMCS and let us take care of the tech.
Backups, phones, internet services – you name it, PMCS will handle your contract for it.
---
Don't waste your time or your employees' time wrangling tech support on the phone or trying to reach a warranty desk when something goes out. PMCS wants to be your go-to solution whenever anything goes wrong with your technology so that we can save you time and keep you running.
Why Go with PMCS?
The PMCS advantage is that we do all the heavy lifting. When you work with PMCS you can expect:
Efficient, effective, proactively maintained technology systems


Predictable, flat-rate monthly costs

Preventative care for your desktops, servers, and other systems

Active monitoring for your backups and security systems

Less downtime for your employees

Prompt responses to problems

Personalized care for your business

A dedication to keeping you safe and keeping your business successful
What can we do for you?
We want to find out! With our decades of experience we have built a broad base of skills, contacts, and expertise that allow us to help customers in many fields, and we're probably a good match for you. Schedule a consultation today and find out how we can help you.

Fill out the form below to schedule a free consultation.